Transporting North-South goods by train  is one of the transportation sectors with great demand, currently being given a lot of priority by the nature of safety, stability and relative punctuality. How to choose a reputable unit? Cheap price, on time delivery?
To ensure the fast, convenient and secure transportation, the smartest choice is to find a reputable and professional freight service unit.
SK Logistics  is one of the many branded freight companies operating in the industry for many years, we are pleased to bring to individual customers, units, businesses, corporations … freight services. with the best professionalism and commitments.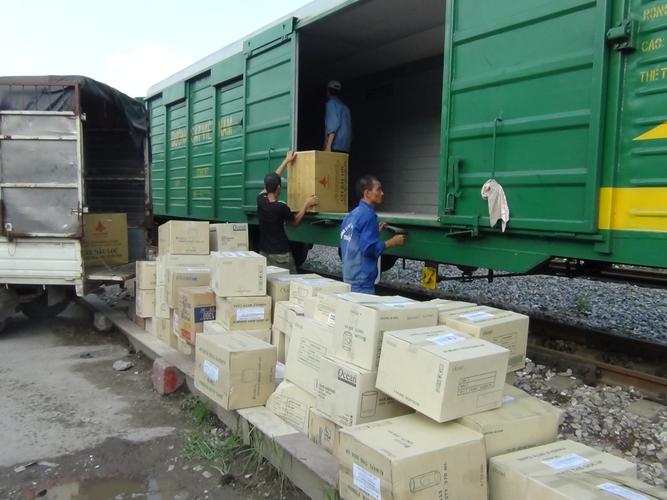 Benefits of freight by rail
+ The freight will be cheaper than other forms
+ Transportation of goods to ensure safety, not cause loss or damage.
+ Fast and convenient shipping
+ Can transport goods with large size and volume, large quantity such as cars, motorcycles, machines, …
However, transporting goods by train will not take advantage of the size of the cargo. Furthermore, if you do not stay at the stations, additional transportation costs will be incurred.
Table of freight rates 

 for North-South freight by train
According to the weight, each volume will have a different price, usually specified 50kg per solid, basic. The price ranges from 1500 VND / kg or more.
The goods are tens of kgs: Price ranges from 2,000 – 5,000 VND / kg
Goods from several hundred kg: freight rates from 1500 – 3000 VND / kg
Goods over 500kg: Freight rates are about 700k – 800k / ton
. motorbike transportation from 600k or more, with motorbikes if moving from Hanoi will be cheaper. Scooter from 950 thousand.
To understand the detailed freight rates, customers should provide specific information about the goods.
For example: – The name of the motorcycle company?
– Type of public motorcycle / gas / gear?
– Number of vehicles to be transported?
– Is this a new or used car?
– Is the vehicle covered?
Time to transport goods from North to South by train is expected to be 3-5 days (Not including the date of receipt).
Freight rates for rail freight from Saigon to Hanoi
Package railway freight rates from warehouse in Saigon to Hanoi warehouse
– Package transport service from warehouse to warehouse means that the transporter directly picks up the goods at Saigon warehouse -> Saigon station and then transports to Hanoi station -> to Hanoi warehouse.
Package railway transport rates from the station to the Hanoi warehouse
– For this package of shipping service, customers have to transport goods to Song Than Station and we will transport them to the receiver's warehouse.
– This service package is for customers who have a car at the beginning of Saigon or a supplier can deliver to Song Than station.
SK Logistics: Prestigious and professional North-South freight unit
The process of transporting North-South goods by train at SK LOGISTICS
Step 1: Receive your information.
Step 2: Quotation of shipping service charge to customer.
Step 3: Receive your goods at the agreed destination.
Step 4: Return the product to you and collect fees.
SK Logistics is a unit with many years of experience in the field of domestic and foreign goods transportation. We have built a strong brand for ourselves based on the trust that customers give and the satisfaction that customers have. We with a team of human resources and professional logistics systems always promise to bring you the convenience of freight as quickly as possible. Not only fast, but always safe, no loss.
With a team of staff trained and trained in the most professional transport profession for the  North-South freight industry , along with the responsibility in the work will give specific advice, quickly negotiate and sign the contract and deploying services to customers. Any need consulting support, please contact us at the address below.
Hotline:  0904086667
Tell: 0225.3.555 379
PLACE
Headquarters: 416 Petroleum Buildings. 441 Danang Road. Dong Hai Ward 1. Hai An District. TP. Hai Phong
HANOI:  P. 604 No. 15/258 Yen Hoa Cau Giay. Hanoi
HO CHI MINH:  415/23 Truong Chinh Truong, Ward 14, Tan Binh District, Ho Chi Minh