In order to meet the needs of trading and transporting North-South goods, SK provides low-cost, reputable, and on-time domestic shipping services. Door to door transportation service will help your company to wholeheartedly develop its business.
1. What is inland sea freight?
Inland sea transport  is a service of transporting goods by sea in the country, from one province to another. Choosing shipping services is one of the safest and most cost-effective shipping options available today.
SK Company specializes in transporting goods by domestic and international sea with the criteria of fast, safe and reasonable prices. SK has been trusted by its partners, and is rated as one of the most reputable companies with sea freight services.
We have the advantage of frequently booked goods through major shipping lines, and are stable throughout the year, can always book ships even during the high season, and want to bring the best service and absolute satisfaction to customers. row.
In Vietnam, sea transportation has the following advantages:
+ Transporting a large volume of goods, stable schedules and saving costs 30-40% more than by road, absolutely dominant in the modes of transport. means of transport.
+ Development of sea transport contributes to reduce the pressure on other types of transportation, especially road. As a result, the process of transporting goods between provinces is smoother and more coherent.
+ Minimize accident and loss of goods. When using shipping services, customers can feel secure about the goods.
+ In the country, there are many large seaports such as Cai Lai, Cai Mep, Hai Phong, Da Nang, … This is an extremely favorable factor for sea transport to develop.
2. The goods are suitable for inland sea transportation
+ Goods with large and diversified transportation needs, such as rice, coffee, household goods, clothes, shoes, chemicals, machinery …
+ Other goods with large volume, type heavy things.
3. The main routes for inland sea transportation
SK LOGISTICS Company  provides inland sea transport services on main sea routes: Ho Chi Minh port to Hai Phong port, Da Nang port, Cua Lo port, Quy Nhon port and vice versa.
• To Hai Phong port: Delivery to the provinces of Hanoi, Hai Phong, Thai Binh, Bac Giang, Bac Ninh, Quang Ninh, Ninh Binh, Thai Nguyen, Tuyen Quang, Thanh Hoa, …
• To Da Nang port: Quang Nam , Hue, Quang Tri,…
• Going to Cua Lo port: delivery to Nghe An, Ha Tinh,…
• To Quy Nhon port: delivery to Binh Dinh, Kon Tum, Dac Lac, Phu Yen, Gia Lai provinces ,…
• To Ho Chi Minh port: Delivery to Binh Duong, Ho Chi Minh, Binh Phuoc, Long An, Tien Giang, Tay Ninh, Dong Nai, Ba Ria-Vung Tau, Lam Dong, Binh Thuan, Ninh Thuan provinces , …
In addition, we also serve freight routes according to the requirements of customers.
4. SK air transport throughout Vietnam the following types of goods:
+ Goods with physical and chemical properties such as: easy to absorb moisture, dangerous goods such as chemicals, solutions, dust-volatile goods such as powders …
+ Goods easily affected by the environment such as: tastes, cigarettes, tea …
+ The cargo is not affected by other goods: construction materials, industrial materials …
Besides, sea transportation also divides goods by mode of transportation:
+ Shipping by containers with garments and everyday goods mostly.
+ Transport by barge for minerals, sand, stone …
+ Transport by means of keeping frozen for typical goods.
Marine and sea products
– Vegetables and fruits
– Agricultural products
– Components, electronics
– Furniture
– Ordinary goods
– Public goods, oversize …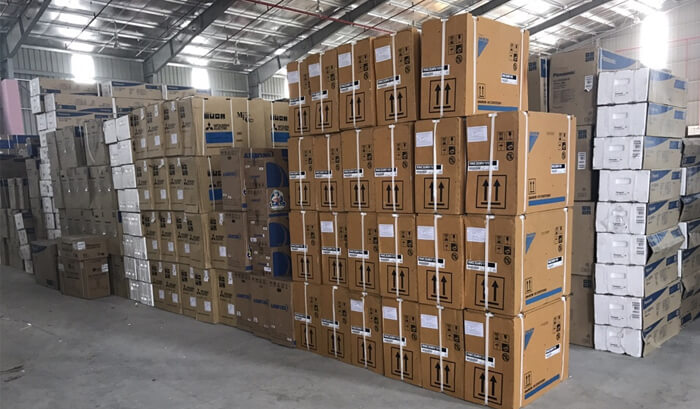 5. SK's inland sea transport advantages:
+ SK Company provides multimodal transport services, inland sea routes that we have exploited effectively for many years and have gained certain reputations and beliefs from our partners.
+ Always grasp the market price along with updating the train schedule regularly, we always provide our customers with the best price shipping routes, the best quality services, simple and effective procedures.
+ Combined with road transport system, we can help you to transport orders to all provinces in the country in the most flexible way.
+ SK Company offers the best and most competitive freight rates on the market today.
Hotline:  0904086667
Tell: 0225.3.555 379
PLACE
Headquarters: 416 Petroleum Buildings. 441 Danang Road. Dong Hai Ward 1. Hai An District. TP. Hai Phong
HANOI:  P. 604 No. 15/258 Yen Hoa Cau Giay. Hanoi
HO CHI MINH:  415/23 Truong Chinh Truong, Ward 14, Tan Binh District, Ho Chi Minh